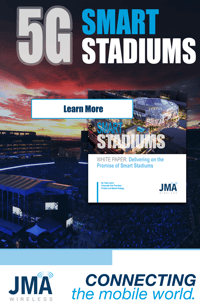 Smart technology is impacting almost every aspect of people's daily lives, including the fan experience at sports and entertainment venues. New stadiums are being built with smart technology in mind from the start while many existing venues are incorporating it to keep up with fan expectations, streamline operations, and level the playing field with their innovative counterparts.
In a smart stadium, the wireless network is not just transporting 50,000 plus fans' photos, videos, text messages and calls during a game, but it is also enabling many exciting and critical applications to make the venue more efficient, provide a lower TCO, and guarantee a richer onsite experience. With IoT, now fans can be informed about parking availability, know queue wait times, receive targeted marketing promotions and so much more. Safety and security, facility management, operations, and even retail processes can be much more intelligent thanks to the key data and analytics transported over the wireless network. Smart stadiums enhance the fan experience, improve venue security and increase overall profitability.
Supporting this level of intelligence is critical and JMA Wireless has the technology engineered for these smart environments. Our state-of-the-art TEKO™ DAS (distributed antenna system) has a rich history of enabling robust cellular coverage and capacity for sports venues around the world. Our FUZE™ platform not only supports heterogeneous networks, but also powers them thanks to the Digital Electricity feature, which can power equipment up to 6,000 feet away from the main power source without additional requirements. And, XRAN™, our 100 percent software solution that runs on off-the-shelf servers and integrates with existing infrastructure, makes it easier than ever for smart stadiums to adapt for 5G, IoT, and applications for new services and business processes.