ret-200
Remote Electrical Downtilt Control Motor, AISG V2.0

RET-200 Replacement Instructions
JMA Wireless occasionally releases new firmware on its RET-200 motors to stay updated with the latest IoT requirements and AISG standards which may require new configuration files be used.
If you know the correct firmware version on a given RET-200; use the following links to download the correct antenna configuration file.
Use the following link to download the latest firmware for RET-200.

Have Questions About Determining Software Versions?
The firmware version for a given RET-200 can easily be identified in the Software Version field located near the upper left hand corner of the JMA PCU-220 Ret Controller Software: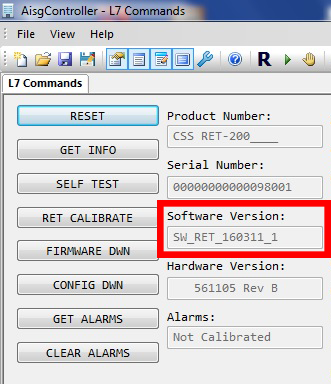 The firmware verison for a given RET-200 can also be easily identified by the serial # of the RET-200, also known as Unique Identification Number (UID). Please refer to the following cross-reference table to identify the factory installed firmware verison using RET serial number or UID.
Firmware Version Upgrade Table
| | |
| --- | --- |
| RET Serial # (UID) | Factory Installed Firmware Version |
| <= 75000 | Contact JMA Wireless Support |
| >= 75001 | Can Upgrade to V160311_1 |